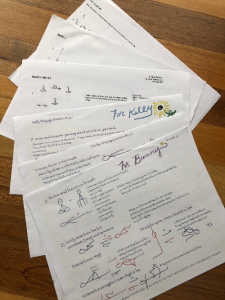 YOU are unique and your body and moods change from day to day and year to year.  Your Yoga practice needs to begin where you are now and change with you.  
Let's say you're a nurse, or a healthcare aid, on your feet almost all day…or night.  You're lifting and shifting people, your back aches, your feet and legs swell, you need to keep your calm and focus on your shift, and off duty, do what needs doing at home while also getting some recuperative rest.  Or let's say you're a stay at home working parent, on the computer all day while maybe the kids are home doing their schoolwork.  Your neck, shoulders, and hips may be out of whack from sitting too much and you feel a little housebound, stuck, and having a hard time sleeping.  Or maybe you're one of those kids at home instead of at college, frustrated with on-line learning and missing being on campus, sports, parties, and hanging out with friends.  Or maybe you're a single retiree, living independently, just needing some joyful healthy movement and social interaction.  All these folks need completely different Yoga practices.  And all these folks can use the power, the wonder drug, of the breath and gentle movement among many other yoga tools to bring out the best in them so they can give the full beauty of what they have to offer to others.
Show me how to use the wonder drug of breath! Contact Yoga for You with Leslie today!